Internal Medicine Comprehensive Care
---
Comprehensive Management of Health Conditions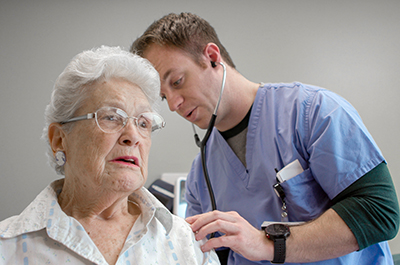 Our expert physicians are patient-centered and highly trained. In addition to annual check-ups, internal medicine doctors can diagnose and treat a wide range of health conditions including the common cold, flu, strep throat, bronchitis or lung disease. They also provide a wide array of services, working with patients to manage testing and treatments for chronic health conditions such as diabetes, depression, back pain, fibromyalgia, hypertension, COPD, thyroid disorders or arthritis. For patients in need of long-term condition management, our team provides care coordination and helps make appointments with other physician specialists to collaborate on your treatment plan as further tests and treatment options are needed.
Evidence-Based Preventive Care to Keep You Well
To ensure your health has not changed and you are meeting your wellness goals, regular testing and preventive screenings are important at every step of life. Our internal medicine team provides the latest evidence-based, preventive healthcare services and testing for adults, including:
Blood pressure screenings
Cholesterol screenings
Colon cancer screenings
Diabetes blood glucose testing
Referrals for Mammograms
Referrals for Osteoporosis screenings (DEXA)
Pap smears
Prostate cancer screenings (PSA)
Thyroid screenings
Skagit Regional Health is a Nationally Accredited Teaching Organization

Skagit Regional Health is a teaching organization, nationally accredited by the American Osteopathic Association (AOA) and Accreditation Council for Graduate Medical Education (ACGME). Our Graduate Medical Education Program provides community-based training of osteopathic physicians. While visiting the Skagit Regional Health Internal Medicine Clinic in Mount Vernon, you may be treated by a physician completing their residency.
Residency is a stage of medical training following graduation from medical school. A resident physician is a doctor who has received a medical degree and is continuing training in a specific medical specialty. All of our resident physicians have received Doctor of Osteopathic Medicine (DO) degrees. They practice under the supervision of fully licensed physicians who are a part of our local teaching faculty. Residency training gives these physicians an in-depth experience in the field they have selected, either Family Medicine or Internal Medicine.
Make an Appointment for Quality Medical Care
Instead of traveling for routine or preventive care tests, call today to make an appointment and plan an initial consultation with one of our board-certified internists at a location near you. Make sure you receive the highest quality of care and comfort. For more information, contact us at 360-428-2592.