A Community of Care
Beth's Story
---
Elizabeth "Beth" Olmsted was an experienced mother of three when she and her fiancé, Chris Eddy, found out they were going to have their first child together. Having grown up in Arlington, it was important for the couple to have their baby born into their shared community. They said they felt supported as they discovered a profound sense of communal care with the staff at Cascade Valley Hospital.
Exposure to a close-knit community shapes one's identity and ultimately influences our overall character. "It's not just about getting quality healthcare, but it's also about getting that healthcare where you live," Olmsted said. "I think supporting those doctors and staff; it's kind of the same concept as shopping locally, in a way. You're supporting the people who practice healthcare in your community, and I think that's really important."
Several of their friends suggested they drive south to Everett and have the baby at the Pavilion for Women and Children or at a facility in Seattle. For Olmsted, the emphasis was on rediscovering a community right outside her door and finding the comprehensive care to address her maternal concerns. The staff and providers at Cascade Valley Hospital were able to use a combination of disarming humor and an atmosphere of fun to quell her fears, she said, noting their ability to maintain an authentic connection and sense of familiarity was consistently reassuring. "I mean, you don't go back into a doctor's office to visit the girls [who work there] and bring them coffees, and chat about KatieJo growing up, if they don't feel like family," Olmsted said.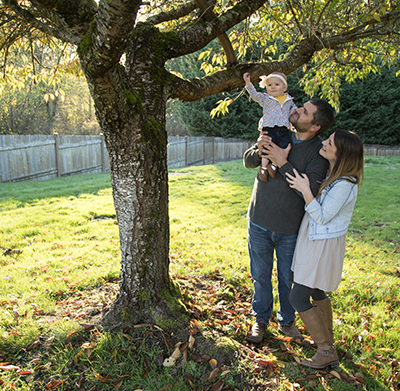 Driving down the street every day as they pass the hospital only to say to their daughter, "Hey, that's where you were born," was an important factor in crafting their unique birth story, she said. Living down the hill and walking distance from Cascade Valley Hospital meant choosing a location, which was both convenient and comforting. Olmsted pointed out, "It is home, I mean my brother was born there and the doctor who delivered him still works there. I'm 37, I grew up here, and the school I went to as a child is blocks away from the hospital."
There's nothing like the comforts of the familiar when facing a new horizon. Although the couple had previously discussed having a child together, the news of KatieJo's arrival still came as a surprise. "I had a lot of questions being an older mom and having a high-risk pregnancy, and it was Eddy's first baby," Olmsted shared. Having an advanced maternal age was a concern for Olmsted who, unlike her previous prenatal experiences, felt elevated emotional states throughout her fourth pregnancy.
Having a child later in life has benefits and challenges, she said. At age 35, Olmsted had concerns regarding her and her baby's future health. She decided early in the pregnancy to undergo preliminary blood work as part of recommended genetic testing. The tests would lend the couple peace of mind and give them more information regarding any detected genetic abnormalities. They put their faith in their providers to ease their worries and guide them along the way. They were also excited to find out the sex of their baby well before most parents.
After receiving a much-anticipated call from the hospital while at work, Eddy knew just how to tell Olmsted the news. They'd both agreed beforehand that he would get to know the sex of the baby first and then tell Olmsted in person. After a little shopping, he drove over to her house and presented her with a small box. Inside were two tiny diamond stud earrings. Their baby girl was on the way and their adventure together as parents had already begun. With the quality of care they received early on, their path toward labor and delivery was much smoother than expected.
Olmsted's anxiety was continually addressed and soothed by her physician and the cultivated connection with other members of Women's Health staff. "We weren't just a number when we went in there, and you would sit in the waiting room and you'd watch how they'd interact with every patient that would walk into the office, and it was the same across the board, just really welcoming," Olmsted recalled.
As her appointments came and went, Medical Assistant Trisha Barnett, became a familiar touchstone. At the front desk, Kim Dietz was also an important presence Olmsted and Eddy grew to appreciate. "The first time we went in, it was Kim who was at the desk, and she was just very warm, very friendly, and welcoming," Olmsted said.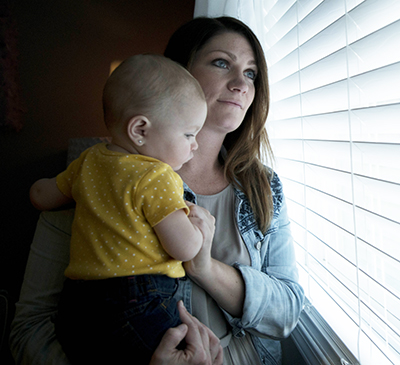 When members of the medical staff evolved into trusted friends, Olmsted and Eddy knew they'd made a special connection that far surpassed a "sterile" or strictly professional relationship. "I try not to get too personal with patients, but pregnant patients, especially, are a little bit different. You're with them for nine months through one of the biggest transitions of their lives and you really get to know them and their family," Barchenger maintained.
The couple gravitated towards Barchenger's calm personality and appreciated the way she reached out to them personally. "She was always super concerned with how we were doing, talking about our kids, our families, we really just got to know her on a personal level, it wasn't just strictly professional," Olmsted reiterated.
Her personalized medical experience was an essential component in Olmsted's overall obstetric care. The offer to include Barchenger at the birth was a way of celebrating a close bond. "Trisha wasn't a nurse, but I'd rather have someone next to me that has been with me the whole way, who has seen me, ups and downs, and so we invited her to come be with us when KatieJo was born and that was really special," Olmsted remembered. Barchenger felt equally moved by the experience. "When they asked me to be there as a friend, that was the biggest compliment I could get," Barchenger said.
Barchenger was there before, during and after the birth and took pictures for the family, even bringing her own daughter in to visit the newest member of their community- an expanded family by choice, and one made possible when their healthcare providers felt like family members. "To experience something so close with a patient… it's indescribable and it still makes me tear up because it was so special," she remembered.
The overwhelming support Olmsted and Eddy received brought them closer to members of their own hometown. "I think that people have this preconceived notion that just because it's Cascade Valley Hospital and it's Arlington, there's a lack of good health care in a small community. To me, it's completely the opposite, that's exactly why we went there, it's because it's a small little community. It's like a diamond in the rough," Olmsted maintained. She continued, "KatieJo was my fourth, so I felt like I had a good gauge of what was the standard [care] and what was above the standard, and I definitely feel like they exceeded that."
Great healthcare can be nearby, and luckily for Beth Olmsted and Chris Eddy, Skagit Regional Health is right down the road, in the same place they'll raise their daughter to be deeply connected to her community.